Correos offices on the Camino de Santiago
CORREOS, another yellow symbol on the Way!
You will find our post offices along the different Ways. There you can send parcels, book our Paq Mochila, Paq Bici or Paq Peregrino, send your postcards and also stamp your Credencial or Pilgrim Passport.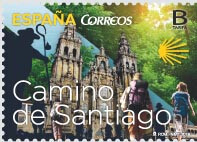 We have over 150 post offices in towns and cities on the Way of Saint James. Any of them can help you with many of the needs you will have during the Camino. We will be delighted to help you in everything we can, for example:
Sending your postcards or letters with handwritten letters as a souvenir.

Offering you our

Paq Mochila

, to transfer your rucksack or suitcase to your next hostel each day.

Sending a parcel home with clothes or any other thing that you do no longer need, or with things you have bought on the Way.

Transporting your bicycle to your starting or finishing point in the Camino with our

Paq Bici

.

Sending a parcel or suitcase with our

Paq Peregrino

. If you want, you can also send it to some of our Correos offices and we will keep it until you arrive.
Besides, once you get to Santiago de Compostela, you will find a Correos office at Rúa do Franco, 150 metres from the Praza do Obradoiro, where we have a locker service to leave your things and access the Cathedral, where bags are not allowed. We also have another office inside the Pilgrims Office at Calle Carretas and you can send your rucksack, bicycle or trekking pole back home.

Please check a list of our offices on the different Caminos HERE, with their address and phone number. We will be delighted to welcome you in any of them, help you and wish you Buen Camino!