Reserving your #PAQMochila is now even easier! We've launched a new online hiring service
22-02-2017
At the Camino Post Office, we work every day to improve our services and offer you, the pilgrim, what you need during the Camino de Santiago. That's why today we're very happy and proud to announce that it is now possible to get the Paq Mochila through our website! Something that you've requested and that we hope helps you organise your Camino.
You can see how it came about and its release HERE.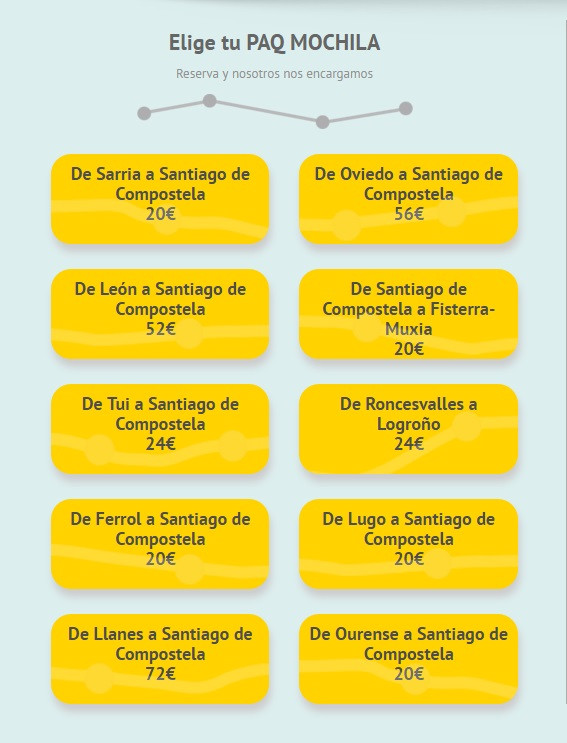 With this new form of procurement, we're making sure you have all possible alternatives to make reservations the way you want. But, don't worry, if you still don't know about the Paq Mochila, we've prepared an entire article that will explain everything you need to know about this service, which will make the Camino much more simple and with which you'll be able to enjoy the Jacobean route more comfortably. Keep on reading to learn more.
What is the Paq Mochila?
The Paq Mochila is one of the main services we offer daily to pilgrims on the Camino de Santiago. We transport your backpack or luggage from the beginning of one stage until the next, from accommodation to accommodation. This way you can travel your stage much more comfortably and will also allow you to take more things on the Camino, much more than you can carry ;)
How does Paq Mochila work?
It's really easy! All you have to do is tell us when and where you want us to pick up your backpack and where to leave it. You don't have go to a Post Office to do it: we go to the hostel or hotel that you indicate, where you begin your stage, and we leave it at your accommodation at the end of your journey.
You can reserve all stages of your Camino or just one, and if you already know your hostels or hotels, you can give us this information in advance and we can prepare everything before you begin your Camino. If you still don't know, no problem! You have until 21:00 the day before the transfer of your backpack or suitcase to let us know where to pick up your luggage.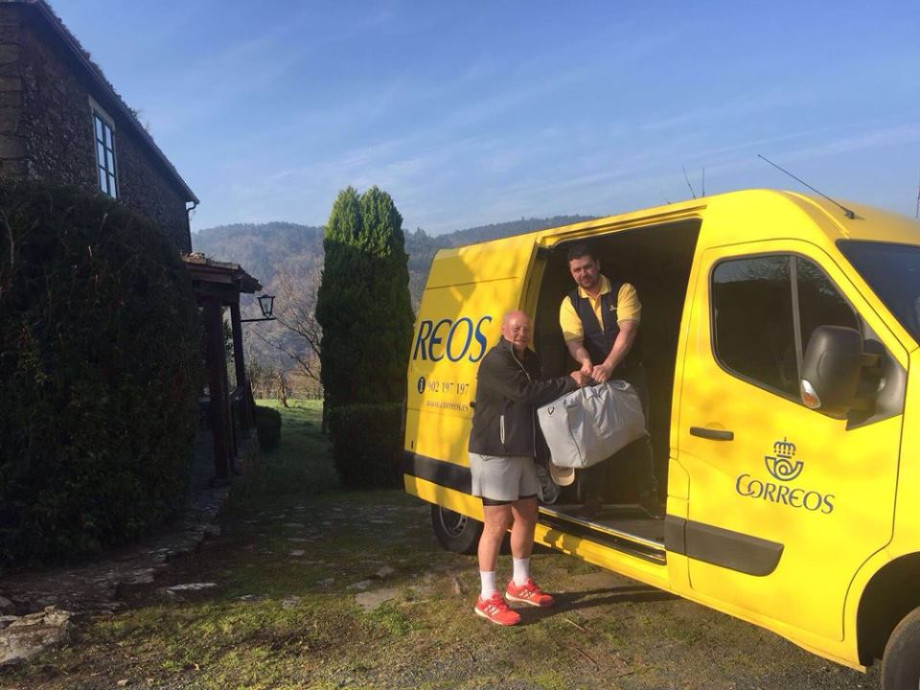 Once the service is reserved, the first day you'll hang our Paq Mochila envelope on your backpack or suitcase so that we can identify it (you can also find these envelopes at your accommodation). Then you just have to leave your luggage at reception at the hostel or hotel before 8 am on the day of the transfer. We will arrange for you to have it at your destination accommodation before 14:30.
How do I make the reservation?
We want your Camino to be as comfortable as possible, that's why there are different ways to reserve PaqMochila:
Through our new online reservation service
Sending an email to paqmochila@correos.com
Sending a WhatsApp to +34 683 44 00 22, where we can also contact you through a phone call.
To make a reservation, you just have to know the dates and stages where you want us to make the transport and then follow the directions that we give you for reservation and payment (by card or PayPal if you do it online and with cash or bank transfer if you reserve by telephone or mail).
How does the new online reservation work?
Making your Paq Mochila reservation online is extremely simple and intuitive. The first thing you should select is the Camino that you want to travel; it can be a Camino that's already predefined (From Sarria, Oviedo, Leon, etc.) or you can design your own Camino, indicating the start and finish you've chosen.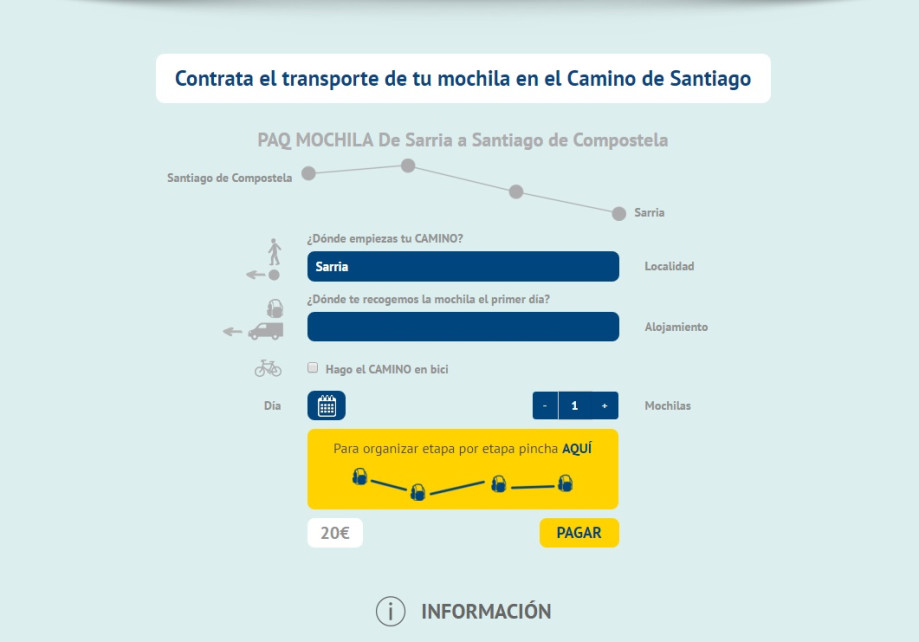 If you already know all of the hotels or hostels where you'll stay on your Camino, let us know and have all of your transfers organised. If you still don't know, don't worry; you can let us know later, even while travelling the Camino, but always before 21:00 the day before transport. When you've finished your online reservation, we will send you an email with all of the reservation information and with the access code to make changes.
Where do we offer this service?
Paq Mochila is offered on the Camino Francés from Roncesvalles, on the Camino Portugués from Tui, on the Camino Primitivo from Oviedo, on the Camino del Norte from Llanes (through Gijón or Avilés), on the Camino Inglés from Ferrol and A Coruña, on the Camino Sanabrés from A Gudiña and on the Camino to Fisterra and Muxía.
This service is provided on all Caminos from 1 April until 31 October, and from O Cebreiro to Santiago throughout the entire year (except 24, 25, 31 December and 1 January).
How much does it cost?
If you reserve five or more stages, the price is 4 Euros per stage and 5 Euros if you reserve an single stage. These prices are set for the transfer of a single package that does not exceed 20kg and for transports between stages less than 25 km. For bicycles stages, the maximum stretch is 90km per day.
We hope that this article has helped you learn more about our Paq Mochila service and that the new form is useful for an easier reservation.
If you have any questions, don't hesitate to leave a comment below, send an email to paqmochila@correos.com or call us at +34 683 44 00 22. And don't forget to sign up for our newsletter to keep up to date with all of the news on our blog!
Noirin Ui Mhaolaoi
07-04-2017
Is there any possibility of using Paq Mochila on the Via de la Plata, going northwards out of Sevilla? I have used your service to transfer my bici from Murcia to various places on the Via and have found it an excellent service. This year, I had been hoping I could use the paq mochila service, as I'm a senior citizen, but still cycling.
El Camino con Correos
11-04-2017
Hi! Sorry but by the moment we offer our #PaqMochila in the French Way from Roncesvalles, the Portuguese Way from Tui, the Original or Primitive Way from Oviedo, the Northern Way from Llanes (via Gijón or Avilés), the English Way from Ferrol and A Coruña, the Sanabria Way from A Gudiña and the Fisterra Way. If you are walking the Via de la Plata and you continue to Galicia by the Sanabria Way, we could transport you rucksacks since A Gudiña. If you connect with the French Way, there we also could transport them.
Leave a comment
Your e-mail address will not be published.
Sending comment, please wait.
The comment has been sent, Thank you!